A damper is a device that eliminates or progressively diminishes oscillations. There are several types of dampers available for structural applications. These types include: fluid viscous, viscoelastic, hysteretic steel yielding, and friction.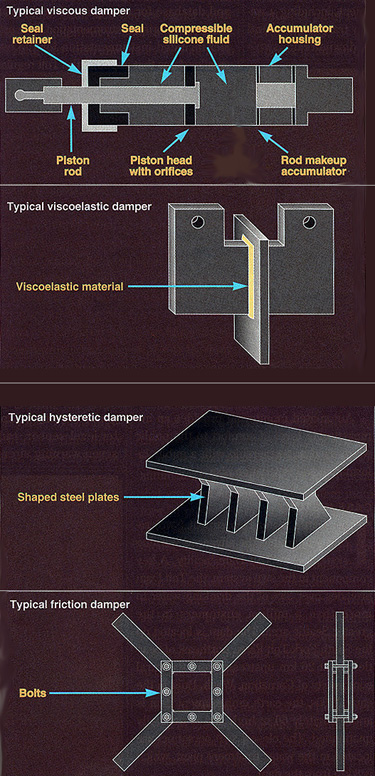 Fluid viscous dampers are metal cylinders with pistons and work like shock absorbers. Fluid viscous dampers have shown to be the superior device for seismic and wind structural applications.

Viscoelastic devices are stacked plates separated by inert polymer materials. These devices have proven to be problematic over a varying temperature range.

Hysteretic Steel Yielding dampers were developed by CounterQuake in the 1980's; They were given the name A.D.A.S. (applied damping and stiffness). These devices consist of multiple steel plates which yield.

Friction dampers consist of sliding steel plates. These devices are subject to corrosion and cold welding, which will effect the yielding threshold. This poses a maintenance problem.

CounterQuake is recommending fluid viscous dampers manufactured by

Taylor Devices because of their superior quality, craftsmanship, experience, and durability. Taylor's Seismic Dampers are tested to withstand extreme conditions including underwater applications. These devices will be ready for re-loading associated with aftershocks.